Sidebar
Are barista courses worth it?
If you're passionate about coffee and want to start a careers as a barista, you might have already looked into a barista course in Newcastle. These courses can give you knowledge and insight into the craft that could set you apart from the competition when it comes to getting the barista job you want.
There are plenty of barista courses to choose from with more and more training opportunities being offered for people that want to get started in the coffee business. However, some will be better quality and more informative than others, so it is more than fair to question whether barista courses are worth it.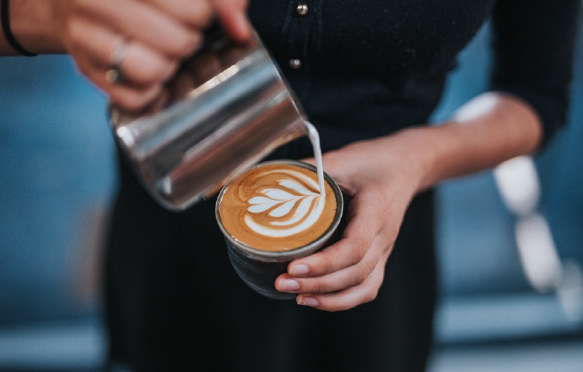 The barista course breakdown
There are two equally important elements to learn that can help you become a professional barista. The first is gaining a necessary knowledge base including understanding barista terms, barista tools, coffee equipment, and drink constructing. The other aspect is hands-on training.
Whilst hands-on experience will be required to do the job effectively, you need to know the basics first. Gaining a better understanding of coffee is the starting point for becoming a barista. We feel that it is important to have a good grasp of coffee before providing service to customers.
A barista course should be detailed enough to cover everything you need to know to do your job effectively. It should explain all the equipment and terms you are likely to encounter in your role. Also, it would help you get a more professional insight into the nuances of coffee, taste and coffee roasting profiles, and what coffee lovers are looking for in their beverages.
Nowadays you have the option to complete your barista course either online or offline and in-person. Both can be useful and important in different ways.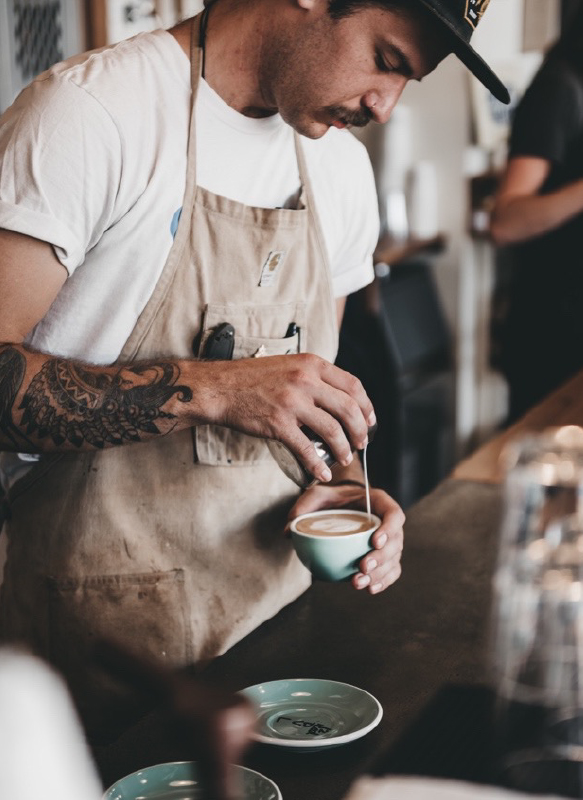 The importance of barista training
Enrolling in a barista training course is essential for anyone interested in learning the basics of the profession and gaining the confidence to practice their skills.
On a mental level, training gives you the understanding of how everything works together to create the best coffee beverages and customer experiences that they will keep coming back for. From a practical perspective, training helps make you more effective and efficient at your job.
Training can help lower your stress levels and energy output which will help you work more smoothly with your team. When you know how to make good coffee you will be able to do it with your eyes closed.
It also helps to boost your confidence as you won't be guessing how to make drinks and you will be able to provide consistent customer service. Having more confidence in turn can help you find your own style and unique way of getting the job done that shows customers that extra personal touch. By contrast, not having any training will mean you are more likely to struggle with the work, become overwhelmed when things get busy, and the quality of the drinks you make won't be as high.
The confidence you will gain from a barista course goes hand in hand with better interactions with customers. These connections with people will allow you to relax and enjoy your role more as well as potentially earning you some tips.

Virtual barista training
Online barista training can offer you a wealth of knowledge on the coffee industry and requirements of the role. An online barista training program can provide an in-depth exploration of topics related to barista work that may be difficult to cover during traditional, in-person barista classes.
Therefore, you can learn broader and more profound information at your own pace. At this point, you will have the basic knowledge to begin mastering techniques like adjusting coffee and pulling the perfect espresso.
Face to face barista training
It can be beneficial to receive hands-on instruction from an experienced barista in certain circumstances. Nonetheless, prior to any barista serving their first customer, they must possess the necessary knowledge and expertise to operate a coffee grinder, an espresso machine and other coffee-making equipment.
Every coffee shop and cafe will approach things differently though. They might have specific styles or methods that they use exclusively and want their employees to follow too. So, in-person training at one coffee shop might not be the best option if you work at a completely different shop.
No matter the coffee shop, you should anticipate having the opportunity to learn how to use their equipment. Although online courses have advanced considerably in recent times, there is no substitute for hands-on training and practicing with the equipment.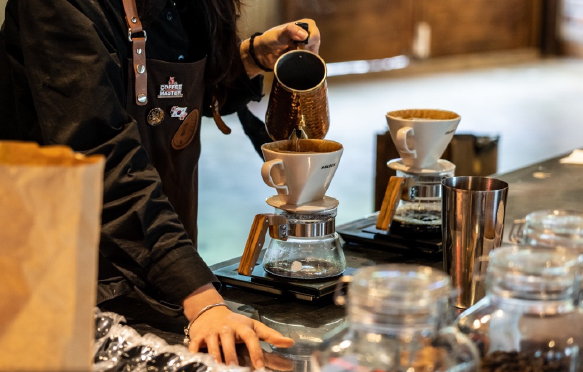 Should I take a barista course?
Completing a barista course can be beneficial if it gives you the skills and assurance necessary to make quality drinks and provide excellent service to customers. Baristas that have undergone courses have felt they benefitted a lot from it. Among the benefits they experienced are:
A detailed programme of learning
Supported learning
Flexible to each person's circumstances to ensure they can complete the course to the best of their ability
Each person treated as an individual and the course works to their specific needs
Building the foundation and key skills every barista needs
Motivates students on the course and grows their confidence in becoming good baristas
If you're looking for effective barista training in Newcastle we can help. Contact us today to find out more about our dedicated courses to create your new career path in coffee and develop your barista skills.