Sidebar
What is instant coffee and how is it made?
Whether you love it or hate it, there is no denying that instant coffee fulfils our need for convenience. For an uncomplicated kick of caffeine, there's nothing quite like it, but how much do you really know about instant coffee? In this blog, we look in detail at what goes into it, how it's made, and why it continues to be popular with coffee consumers.  
What is instant coffee?
Instant coffee starts its life in much the same way as regular coffee – its beans are roasted and then ground, but that's where the similarities end. The beans destined to be made into instant coffee go through several more processes with the aim of removing all traces of water.
This process of dehydration leaves behind a powder, which you will later dissolve in water to make instant coffee. You might also see instant coffee referred to as:
Soluble coffee
Coffee powder
Coffee crystals
The first instant coffee was known as coffee compound, and it was made in Britain in 1771, but it wasn't until 1890 that it was patented by David Strang in New Zealand.
During its rich history, instant coffee has been attributed to many people and places. It remains popular today, and just under half of the world's green beans go into making it.
Instant coffee vs. regular
Instant coffee is typically made using Robusta coffee beans, while regular coffee uses Arabica beans, which are considered superior and have a higher price tag.
Regular coffee takes longer to brew than instant, and that's because it's ground straight from the bean. Depending on the coarseness of the grind and the brewing method, it can take a while for the water to extract all the right elements from the coffee. Instant coffee is a soluble powder, so all it needs ishot water for immediate results.
To fully understand this, we need to know more about how instant coffee is made.
How is instant coffee made?
Instant coffee goes through a lot before it makes its way to your cupboard. To start the beans are roasted and ground, then they go on to be brewed in large tanks where they are made into a coffee concentrate.
At this point, the coffee is dried, and there are two main ways of doing this.  
Freeze drying – this method preserves more of the coffee's flavour, so it's preferable to spray drying, but it's also more time-consuming and costly. The coffee is frozen to minus 40°C then placed in a drying chamber to heat up.
Spray drying – this involves spraying small droplets of coffee into a large chamber and blasting them with hot air. It takes less than 30 seconds, and it's the cheapest of the two options, but it also risks compromising on flavour.
At the end of these processes, the water is removed from the coffee, and all that remains are dry granules, which are then packaged and shipped to wholesalers.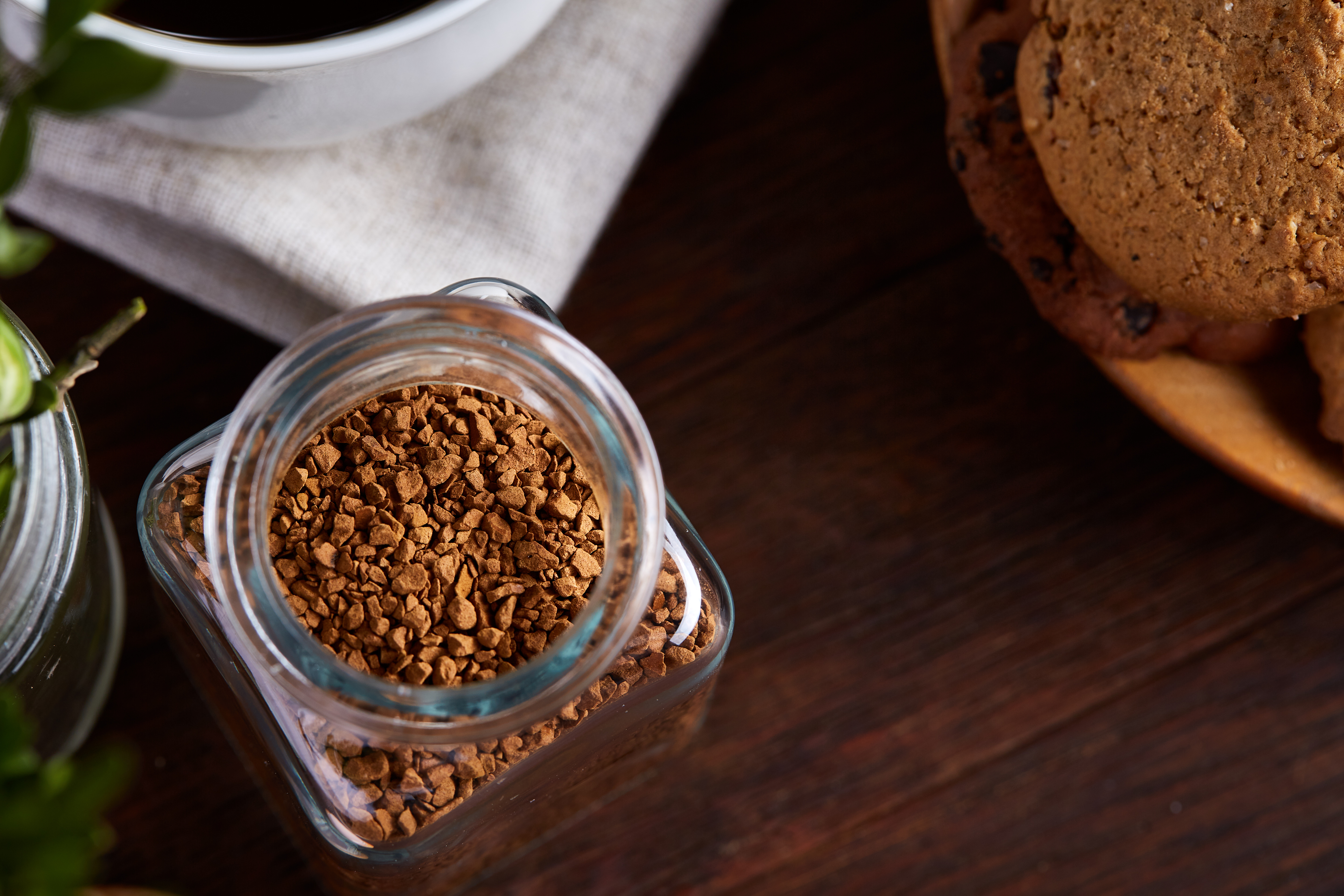 The benefits of instant coffee
When it comes to taste, there is no substitute for freshly ground coffee, and yet instant coffee shows no sign of losing its foothold in the market. So why is it still so popular with coffee-drinking consumers?
It has a long shelf life – coffee granules last longer than ground coffee beans, so if you don't drink coffee frequently, then it's ideal for storing away until you need it. 
It's easy to transport – instant coffee sachets are easy to transport, whether you're going camping, hiking up a mountain, or you're just taking the train to work.
It has health benefits – instant has all the same health benefits as regular coffee, including reducing inflammation in the arteries around the heart and brain.
It is cheaper to buy – as a general rule, regular coffee is more expensive to buy than an instant coffee jar, so if you only keep it in for guests, it's worth the saving.
No other type of coffee is as quick or easy to make, and in the next section, we'll look at what you need to make a rich flavoursomecup of instant coffee.  
How to make instant coffee
All you need to make coffee at home is a mug, spoon, and somewhere to boil your water. Once you've gathered all this together, follow these three steps:
Put one (or two) heaped teaspoons of instant coffee into your favourite mug; remember everyone uses a different amount of coffee so go with what you like.
Boil your water and leave it for thirty seconds – if you use it straight away you risk scorching your granules, which will give your coffee's flavour a burnt taste.
Pour your water over the coffee and stir, then top up with milk or cream to finish.
It's as simple as 1, 2, 3 – and in less than the time it takes to order a coffee and wait for it to arrive, you could be drinking your own great tasting instant coffee at home.
Instant coffee – the key takeaway
We have been blending coffee for over 200 years, and we continue to uphold the same values today as we did when we started. We put this same care and attention into choosing our instant coffee because we understand that sometimes you just need to be able to make a quick cup of coffee without compromising on flavour.
At Pumphrey's Coffee, we sell instant coffee in convenient-sized jars (50g). We also supply larger tins and sticks of freeze-dried coffee for caterers and coffee shops. For a mild yet full-bodied flavour, try a tin of our Brazilian instant coffee (500g).
You can see our full range on the instant coffee section of our website.